Choosing Criteria and Output Data
We want to set our criteria as the minimum Combined MPG each car must have. For each vehicle that qualifies, we will want to list out the basic information about the model and its mileage. The criteria will be Column H, circled here in red. The output data will be Columns B through H, circled here in green.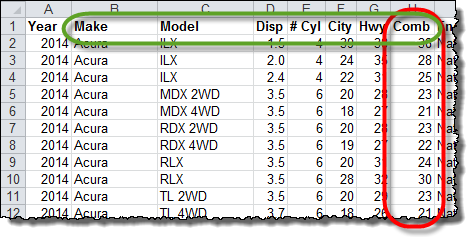 Andrew Roberts has been solving business problems with Microsoft Excel for over a decade. Excel Tactics is dedicated to helping you master it.
Join the newsletter to stay on top of the latest articles. Sign up and you'll get a free guide with 10 time-saving keyboard shortcuts!